: :  FICTION  : :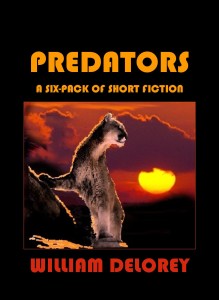 Predators  ::  A Six-Pack of Short Fiction, each with a surprise ending (2015) 
                        Some predators are animals, some Predators are human                                  Some times, it's hard to tell the difference! 
"A young athlete wakes each morning locked in battle, his peaceful spirit noble but fragile, the demonic voice mean and powerful. Secure in its invisible nest, resident evil screams its demand 'Execute a friend, and we'll release you from all this pain'. He fights for control, embracing morality and ethics while his brain rages. A quirky Russian doctor attacks mind-bending delusions with a unique blend of chemistry and psychology. Can Cat stop the violent impulse before Sonny executes a friend?"
A psyche thriller featuring Sonny Bones, a world-class athlete destined for boxing fame, and training for the Olympics.  Orphaned as a teenager and homeless, Sonny hides a tent in the woods and struggles to survive.  Left alone in the world with no family or friends, male hormones emerge and he battles a brain chemistry imbalance that interferes with his goals, driving him to commit uncontrollable violence as he matures.
Cry with Sonny while he fights imaginary demons that infiltrate his mind, and order him to murder his best friends.
Laugh with Sonny while he unravels the health care system and fills clinics and counsel meetings with his child-like innocence, then frightens his keepers and his friends, and even his doctor with wild antics and violent episodes beyond his control.
Empathize with his trainer, K.O. and his ranger friend Willow.  His two best friends and new surrogate family overcome obstacle after obstacle in the crazy world of health care, and stop at nothing to find a cure for a mental illness that has no cure.
Share his passion as he frolics with a young librarian in a backwoods campsite below the beautiful and majestic Blue Ridge Mountains. Lisa introduces Sonny to a remarkable and embraceable term "Friends with Benefits".
Meet quirky but sophisticated Doctor Cat, a committed Russian research psychiatrist who merges technology and medicine, then attacks mind-bending delusions with a unique blend of chemistry, biology, and psychology and creates a treatment plan for violent men who cannot control the urge to kill.
Cat meets Sonny and seeks a bio-based treatment to balance his brain before the demon succeeds.  The impulse to kill gets stronger and stronger, the demon demands become harder and harder to resist.
Can Cat develop her treatment plan before Sonny executes a friend?
                                                
                                          Operation Crossbow   (Due Dec/2015)     
        :: Espionage & Intrigue in the Jungles of Colombia and the streets of D.C. ::
 

This military spy thriller pits a young and naive but extremely well-trained Special Forces soldier unwillingly against the ruthless head of ICD, a federal intelligence agency seeking revenge for a personal vendetta.  In pre-production stages now – "Operation Crossbow" – due for release in Dec/2015.



A top federal agent recruits Jacoby Klyne, ex-military Special Forces operator recently discharged from the Army.  After six years infiltrating and fighting drug cartels and political  hot-spots around the world, Jake wants his discharge, some rest, and to resume the quiet country life he left to serve his country at age eighteen.
George Hallingforth, leader of a federal spy agency needs his skills – unofficially -for a private operation. Jake declines and his life suddenly implodes, manipulated by events over which he has no control. Against his will and choosing, Klyne enters a world filled with violence, deceit and betrayal he never imagined existed.
Follow Jake Klyne along a course of violence and sexual trickery. Convicted and sent to prison for a crime he didn't commit, the price of his freedom involves more than simply serving his time. Forced to chose between life in prison and his freedom, he departs on an adventure that pits him alone against a wealthy drug lord in the jungles of South America and a political powerhouse who sits atop a secret spy agency based in Washington, DC.
The spymaster manipulates Klyne and others for a unique revenge agenda against a group of men he despises.
Innocent and alone, Jacoby Klyne twists and turns through a series of nightmares filled with drugs, violence, and sexual betrayal that extends beyond his wildest imagination…
IF you enjoy Spies and Intrigue, vigorously blended with the tangled mind of a demented and powerful man bent on violent revenge, open Operation Crossbow and read it. You will not fall asleep.
***  Check back here for links to excerpts and publisher release dates.
Or email   bill@billdelorey.com   and request information on any publication.